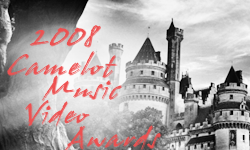 Announcing the first annual Camelot Music Video Awards! These awards are for fan made videos from the Merlin fandom. Any vid made and posted by December 31, 2008 is eligible for nomination.


Rules for nominating

1) Comment to this post (comments are screened) or email the information to merlinvids@gmail.com with "Nomination" as a subject heading.

2) When nominating, please include the following information:
Title
Vidder/Creator (with contact information if URL is not to a LJ post)
Valid Video URL (Locked LJ posts are NOT valid)
Category

3) Vids nominated in a 'Character' category cannot be nominated in a 'Pairing' category and vice versa.



Categories

Ensemble/Cast

Character**
-- Merlin
-- Arthur
-- Gwen
-- Morgana
(others to be determined by nominations)

Pairing**
-- Merlin/Arthur
-- Arthur/Gwen
-- Arthur/Morgana
(others to be determined by nominations)

Episode

Humour

Drama/Angst

Editing

Best Overall Artist ***based upon voting results***

** The 'Character' and 'Pairing' categories are not set in stone. Divisions of these will be added or removed based upon nominations. In order for a division to be a category, there must be at least three nominations.

If there are not enough nominations for a specific 'Character' and/or a 'Pairing' category, then the vids will be grouped into an "Other" category.

Nominees will be contacted via email or PM beginning March 4.

Nomination Period: February 14, 2009 - March 6, 2009 @ 23:59 (CST)
Voting Period: March 9, 2009 - March 20, 2009 @ 23:59 (CST)
Winners Announced: March 22, 2009 (CST)

If there are any questions, please feel free to contact me at merlinvids@gmail.com.

If you want to receive updates, watch this community!